****************************************************************************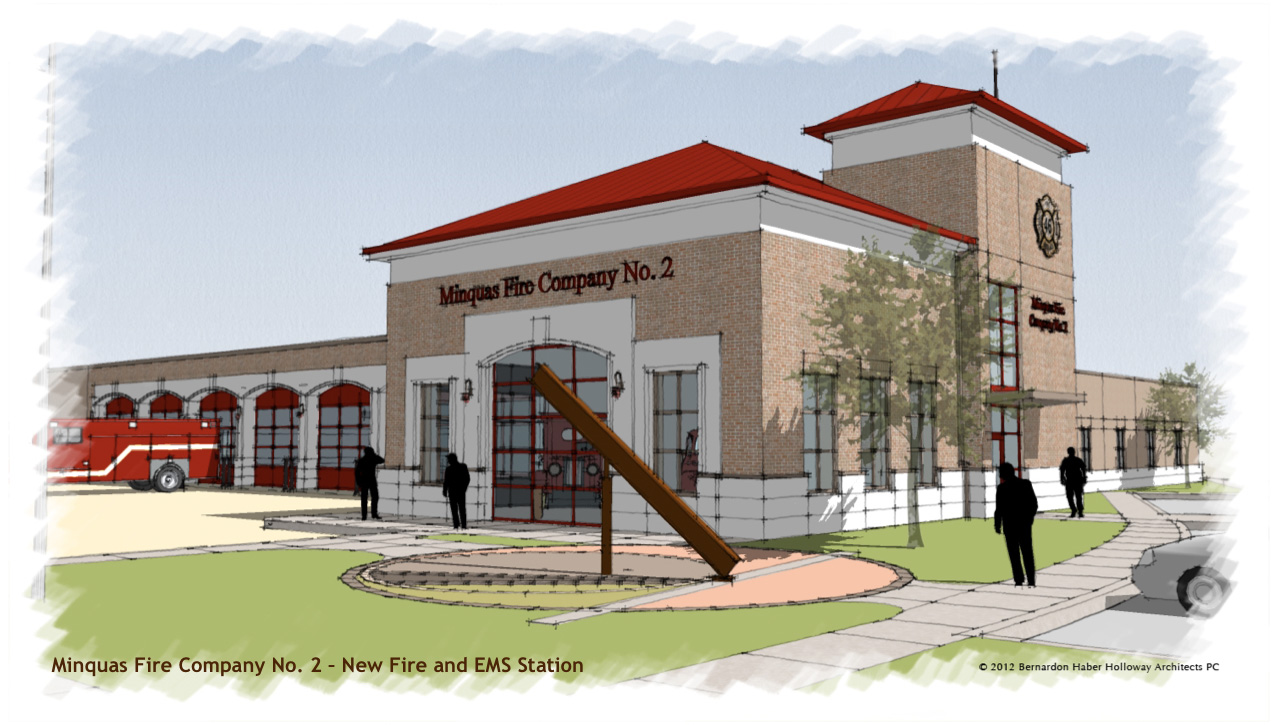 9/11 Memorial Bricks
The Ladies Auxiliary is selling engraved bricks that will be part of the 9/11 Memorial at our new station. If you are interested in purchasing a lasting memory and supporting Minquas Fire Company, you can find our order form right here. To order your brick online, please click here. You'll be taken to our BricksRUs website where you can pay for your brick with a credit card or PayPal.
Cost:
4x8 Bricks
Individuals/Families: $50 - Three lines with a maximum of 18 characters each line, including spaces.
Companies: $100 - Three lines with a maximum of 18 characters each line, including spaces.
8x8 Bricks
Individuals/Families: $100 - Three lines with a maximum of 18 characters each line, including spaces.
Companies: $200 - Three lines with a maximum of 18 characters each line, including spaces.
****************************************************************
In 2010 the Minquas Fire Company Ladies Auxiliary was asked to design a memorial garden that would eventually be built at the new fire house and that would contain a piece of steel from the World Trade Center. After many designs we came up with the one that is taking shape. In addition we started selling engraved bricks to be placed at the memorial. We know many of you have been waiting a very long time to see your brick, but we assure you that when the project is complete you will be very pleased with the memorial garden. It will be a beautiful and respectful place to come and honor all those who lost their lives on September 11, 2001 along with those the bricks have been placed for.
On April 21, 2011 several representatives from the police, fire and ems agencies in Chester County along with Miller's Automotive drove to New York to pick up 2 pieces of steel. One to be placed at the Public Safety Training Campus and the other that would eventually be the focal point of the memorial garden at the Minquas Fire Company's new fire house. The steel for the Minquas Fire Company was draped with an American flag and was kept on a mobile trailer, the steel made many appearances at local events prior to its installation in its permanent location in the memorial garden.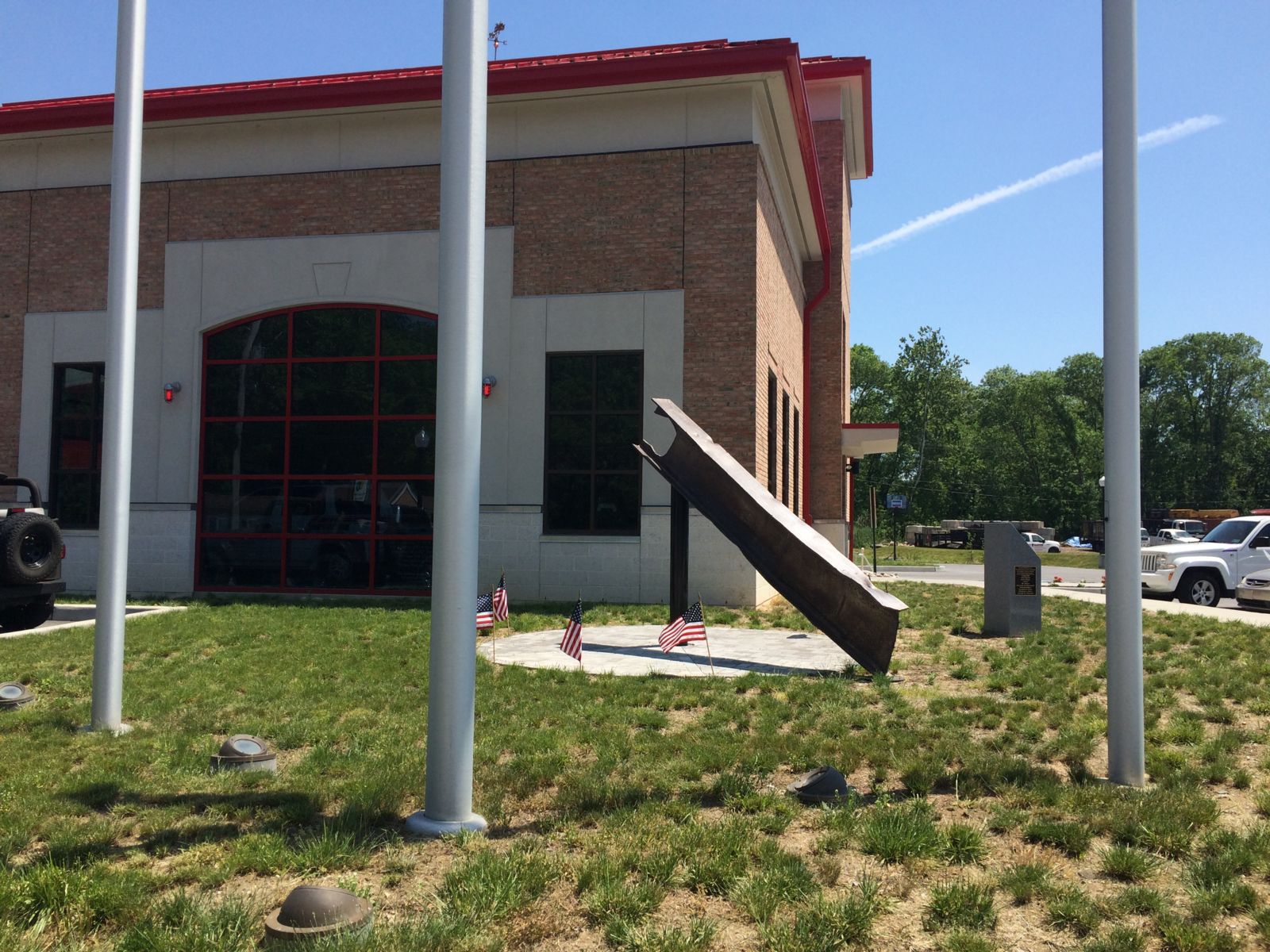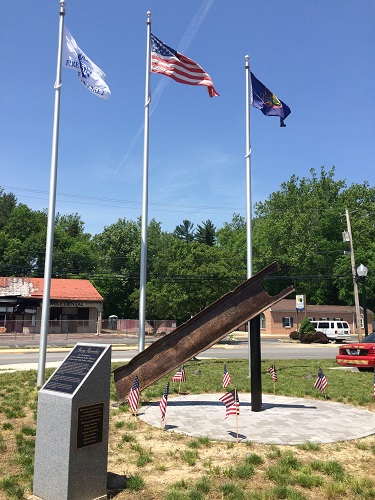 In February of 2012 the Minquas Fire Company finally moved to its new location on Wallace Avenue. During the move we had assistance from many people and organizations. The boy scouts were one of those organizations. One of the boy scouts Brian Rubino approached us and asked if we had any projects that needed done that could possible be used for an Eagle Scout project after much consideration the memorial garden was chosen. The project was going to be a very big and it was decided to break it up into two phases, Brian would complete the first phase. The project was to be started after we made sure projects vital to the fire houses daily operations were in working order. We also wanted the flag pole and outdoor lighting to be in place to assist with the illumination of the memorial. During that time we worked very hard with Brian to come up with a design that not only was approved by the fire house but also met all the requirements for him to earn his Eagle Scout. We wanted this project to be done with respect and professionalism for those it was going to honor.
In November 2013 the first phase of the memorial was started with the installation of the World Trade Center Steel on brick pavers in a sun dial design. In the spring of 2014 the project was completed with the installation of a granite monument with an inscription of the events of September 11, 2001 along with a thank you to all that helped and donated to the project. During the phase I period another Boy Scout Dan Hyde (one of our own volunteer fire fighters) asked if he could complete phase II of the memorial garden to earn his Eagle Scout. He came up with an idea and after many design revisions he presented it to the fire house and the Boy Scout council for approval in early 2015. In May 2015 the design was approved and all the appropriate permits for Downingtown Borough have been applied for. We are hoping that all goes as planned and the memorial garden will be complete in late summer to early fall for all to come and see.
We want to thank everyone who has helped and donated to this memorial project, it was a success because of you!!
Sincerely,
The Minquas Fire Company Ladies Auxiliary